200303 / Science Made Fun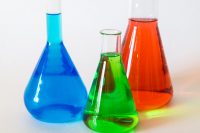 During this 4-week class session children will participate in four different STEAM activities. All activities are hands-on with different experiments each week.
Rainforest Safari It is all about the rainforest. Build your very own rainforest to keep. Become a tribal shaman and make medicine.
Newton in a Nutshell Step back in time to the days of Newton. Have a hands-on look at inertia and motion. Discover gravity and experience as we push, pull and get the job done.
Power Producers and Captain Consumers. Explore the web, the food web that is. Discover the important role of producers and consumers and where we fit in. We dissect owl pellets and explore the five laws of nature that apply to the worlds ecosystems.
The Power of Light Find out just how amazing light is. What is visible light? Discover who ROY G. BIV is and the electromagnetic spectrum. Test optical illusions, lenses and prisms. Do experiments with the Sun's UV energy.
10/20/2022 - 11/10/2022
5:30 pm - 6:30 pm